Every commercial baker in the world is past slender -
Every commercial baker has gone through divorce -
Every commercial baker has suffered a hernia.....and in some cases, twice.
Alright, there may be exceptions to these claims, but Klecko is writing this with Oxycodone pulsing through his veins.
My first hernia, over 20 years ago, was the groin version, but this time around....I'm sporting the umbilical.
That's right, for about a year I have had my inners, popping out of my belly button like a pregnant woman.
But that's over now.
Last Tuesday, Sue McGleno took me to the surgery place, the doc's strapped me in and within moments...I was an insy again instead of an outsy.
When my knock out drugs began to fade, and the my mind started to drift back into consciousness, I heard the strangest thing.
Several nurses at their charge station were looking across the room at this big Pollack with tattoo's that cascaded out of one of those humiliating gowns that patients get subjected to.
"That's Klecko" one of the nurses says "He's the baker guy. Have you ever been to one of his first of the month Retails?"
Hah.....this question, this timing seemed so surreal, this could only happen in Saint Paul.
Nurse #2 responded.....
"Yeah, we just went this last weekend. They had Scandinavian items. We usually go for the pretzel bread, but we got some Cardamom bread that was really good."
Like Lazarus..... Klecko rises from the dead, the ladies smile.....and before you know it, I'm talking baking with the loving nursing staff at Untied.
One of the questions people often ask me is how I got started, or if I got started as a kid.
One of these RN's routed this conversation down that path and asked me if I baked as a child and........
"Klecko, did you have an E-Z Bake Oven?"
Immediately my mind shifted back to what....about 5 years ago?
I don't recall exactly, but I do recall Kim Ode telling me that the E-Z Bake Oven was being retired.
Not forever, but for awhile.
They had determined that the "light bulb" technology was no longer safe, and now they were trying to come up with a new heat source for the classic toy / kitchen fixture.
Eventually when an answer was found, and the oven was back into production, Kim was assigned to write a story about this hullabaloo for the StarTribune.
So now Kim decides to take an interesting P.O.V. by calling Twin Cities professional bakers to ask if they had any attachment to this iconic toy during their childhood.
Most of the people Kim called were pastry chefs.
All of the people Kim called were women.....that is until she called me.
"Klecko, did you have an E-Z Bake Oven growing up?"
O-M-G................I know Kim was doing her job, and I know she was trying to add diversity to her story, but didn't she know????????
Boy's couldn't play with an E-Z Bake Oven in the 60's (or 70's)...they were for girls!
At least that was "Boy Rules on Georgia Avenue".
This has nothing to do with straight VS gay, or anything like that.......
It's just that back in those days, boys wouldn't have thought about it.
It wasn't even an option.
How the world has changed........................
Nurse #1, who by this point is hovering over my head, begins telling Nurse #2 how now days E-Z Bake Ovens have "Masculine Colors" so boys don't have to feel weird playing with pink toys.
Nurse #1 didn't seem to be a liar, but really?
I was determined to go home and Google such matters.
As these beautiful ladies wheeled me out of the recovery area, I assured them.......
When you come to your next Retail, remind me who you are (I was pretty stoned remember) and I will push you to the front of the line....V.I.P. treatment you know.
"Won't your other client's get upset Klecko?" Nurse #2 asked.................
"Maybe" I said....."But it's the least I can do for 2 pretty women that took the time to patch up a Pollack."
Sue McGleno rolled her eyes, and off we went.
With that said...................here's what Google had to say about the nurses claim.
Enjoy.
Hasbro to unveil black and silver Easy-Bake Oven after teen's petition
updated 12:12 PM EST, Tue December 18, 2012
STORY HIGHLIGHTS
Hasbro invites teen who launched Easy-Bake oven petition to view new prototype
McKenna Pope, 13, said pink and purple packaging discourages boys from kitchen play
Hasbro says black and silver Easy-Bake oven has been in the works for the 18 months
(CNN)
-- Hasbro announced plans Monday to unveil a black and silver Easy-Bake Oven after meeting with the New Jersey teen who started a campaign asking the toy maker to offer the product in gender-neutral packaging.
McKenna Pope's
Change.org petition
earned more than 40,000 signatures and the support of celebrity chefs who backed her request to change the Easy-Bake Ultimate Oven's girl-centric pink and purple packaging to include boys, too. She also asked Hasbro offer the product in different "non-gender-specific" colors that appeal to boys and girls.
Hasbro said the black and silver design has been in development for 18 months and pointed out that the oven has been offered in a variety of colors since 1963, including teal, green, yellow, silver, blue and purple.
"We value input from our consumers and given the widespread interest in McKenna Pope's story, we extended an invitation to McKenna and her family to visit Hasbro and meet with our Easy-Bake team," Hasbro said in a statement. The company did not say whether it would change the packaging to include boys in its marketing.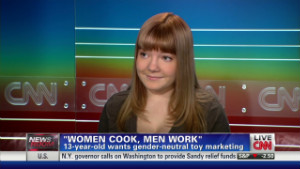 Gender-neutral toy marketing
The 13-year-old launched the petition after on behalf of her 4-year-old brother, who wanted an Easy-Bake oven for Christmas. She could find them only in pink and purple, which she felt would discourage him and other boys from using them.
On Monday, McKenna delivered boxes filled with petition signatures to Hasbro's headquarters in Pawtucket, Rhode Island.
"I was so excited when Hasbro asked to meet with me. I wanted to make sure they were hearing the feedback from 40,000 people who supported my campaign," McKenna said in a statement from Change.org. "I'm thrilled that they not only recognize the importance of a gender-neutral Easy Bake Oven, but also, they've committed to launching one in 2013. Now, boys and girls can choose any color oven they want!"
The new design will be unveiled at the New York Toy Fair in February with the rest of Hasbro's new products for the year, the company said.
McKenna's petition generated national conversation about how packaging and marketing might enforce gender stereotypes and discourage children from playing with particular toys. Others, including the Toy Industry Association, said toys come in different colors based on feedback from consumers and retailers.
- the end -